Feb 08, 2011
My hometown girl wins!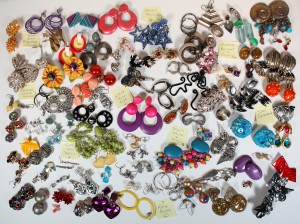 Congratulations, Dana! She's from my hometown, London, Ontario and she guessed 88 earrings, which was the closest to the actual number, which was 95. I own 95 pairs of earrings and it should have been more but I didn't get my ears pierced until I was forty. I did give up a few pairs when I made that earring heart (see Nov. 17th, 2010 posting). Anyway, congratulations, Dana. Damon will be in touch to send your $100 gift card. Thanks, everybody, for playing (twice!) This was fun. Let's do it again! 🙂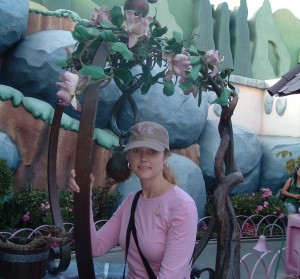 We just heard from our contest winner, Dana, who is a Senior Research Scientist with a Ph.D. in Chemistry. "I am so excited to win the earring contest," she said.  "I think Jenny just has a few more earrings than I have.  When I was younger I used to watch The Jenny Jones Show with my mom when I was off school on summer breaks and holidays.  We love her blog and check it every day and love her funny stories and great recipes. Thank you very much for the gift card." Here is Dana's photo from a family vacation this past summer at Disneyland. It's nice that she took time to send in her photo and congrats again, Dana, (my homie) from London, Ontario, Canada!
5 Comments on "My hometown girl wins!"