Mar 28, 2011
Who trumps Donald Trump?
Long before Donald Trump hired Dionne Warwick to work on The Apprentice,
guess who SHE hired to work with her?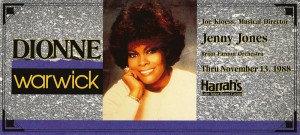 It was almost 25 years ago that I opened for Dionne Warwick in Lake Tahoe.
So I guess we could say I trumped Donald Trump!
8 Comments on "Who trumps Donald Trump?"