Jun 07, 2012
Guess who won?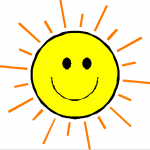 It's harder than it looks to throw a frisbee! At least for me, it kept wobbling in the air so it didn't go too far.
After a few wobbly practice runs, I was able to throw it 29 feet.
Only one person guessed exactly 29 but I have seven gift packs to send so here are the seven winners:
1. Gail – guessed exactly 29! Yay for Gail!
2. Sue – guessed 30
3. Janet – guessed 27
4. Karen – guessed 32
5. Stacy – guessed 32.5
6. John – guessed 32.5
7. Zo – guessed 32.808399
Congratulations to all the winners! You'll receive an email shortly asking for your mailing address and your JJ Summer Fun package will be on the way. Thanks, everyone, for playing. As soon as I find more JJ stuff, we'll do it again. 🙂
UPDATE on WINNERS : We just heard from Gail (no photo) who says she lives in Akron,Ohio and  works in one of her local hospital emergency rooms. She has six children, two grandchildren and has been married for 27 years. And get this! She and her husband were on my show when their girls were 3, they are quadruplets. I loved the shows we did on multiple births. I'm so glad one of my "homies" won!!
Sue is one of my regular blog visitors and wrote to say, "That is soo awesome!!  This is so funny because I didn't have a clue how far she could throw so I went out in my own backyard and threw my frisbe and measured 30 feet! So I went with  it! Happy Birthday Jenny!  And sooo many more to come!!  Love, Sue"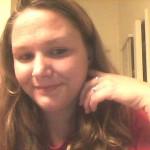 Karen
Karen is a stay-at home mom from Colorado Springs and is very excited about winning. Her email: "Yippie!!!!! Thank you :)"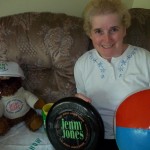 Janet
Janet is thrilled saying she's never won a contest before but it took a little longer for her delivery to arrive. She lives in Liverpool!
*NOTE TO Zo: Zo, your email got bounced back so please contact us at: pictures@jennyjones.com
11 Comments on "Guess who won?"