Jun 11, 2012
Airborne most of the way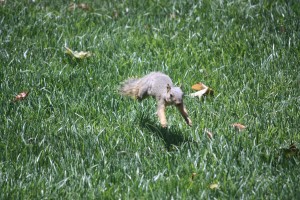 This squirrel wasn't expecting me to catch him in my peach tree. I went out to check on my dwarf white peach tree this morning because I was getting quite  few peaches just starting to grow (but too early to pick). And this mangy, rat-faced, no-good, low-life, beady-eyed, scum-sucking, peach-stealing squirrel was in the tree! Eating a peach!
I scared him so bad he flew like he had wings – out from the tree, across the lawn, only touching down twice before he disappeared into the bushes. He was airborne most of the way.
Was I too mean? He had a look of terror on his face so I think he peed on my peaches. Are they still organic?
6 Comments on "Airborne most of the way"