May 01, 2012
Make breakfast for mom on Mother's Day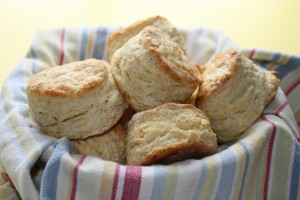 Why not make breakfast for your mom this Mother's Day?
I just posted a recipe for flaky, healthy, homemade buttermilk biscuits.
They are easier to make than you think.
Make them with some scrambled eggs and fresh fruit, a cup of green tea and bam! The perfect gift!
There are all types of moms: which one is yours?
1. Like June Cleaver only nicer.
2. Still treats me like I'm twelve but I like it.
3. Insists that she still looks good in a tube top.
4. Actually DOES look good in a tube top!
5. She needs a Jenny Jones makeover.
6. If I make the biscuits, that might be her next tattoo!
7. Don't ask right now – she's still on probation.
8. Always up in my business.
9. She'll eat biscuits if George Cloony makes them.
10. Has anybody else's mom made a sex tape?
Click here for the recipe.
Click here for the video.
6 Comments on "Make breakfast for mom on Mother's Day"