May 21, 2012
My babies made the news!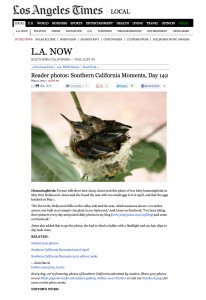 A friend suggested I submit a photo of my baby hummingbirds (notice I said "my" as though I gave birth to them?) to the Los Angeles Times for their Reader Photos.
It's a section on local "Southern California Moments" where they feature all kinds of photos taken around town and guess what?
They picked my photo!! I am so excited! My babies are famous!!
I'm continuing to add daily photos of the birds' progress in the blog below until they fly away. 🙁 They are three weeks old today.
There's a link below to the L.A. Times feature.
If you visit the page, please remember to "recommend" it. Thanks!
http://latimesblogs.latimes.com/lanow/2012/05/reader-photos-southern-california-moments-day-142.html
5 Comments on "My babies made the news!"