May 23, 2012
Barbeque chicken pizza!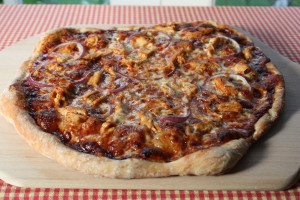 Any plans for the long weekend?
How about making my "wood-fired-oven" style barbeque chicken pizza? I just posted the recipe and video on the site.
You'll need a pizza stone and wooden peel for that crispy wood-fired style crust, but you can also make it in a pizza pan (like my pepperoni pizza).
This is so good, I may never have pepperoni again.
Click here for the recipe: http://www.jennyjones.com/kitchen_recipes_mainmeal.shtml
Click here for the video: http://www.jennyjones.com/kitchen_cooking_videos.shtml
And have a great long weekend, everybody! 🙂
9 Comments on "Barbeque chicken pizza!"